Alberta's New Government Won't Kill The Oil Sands Industry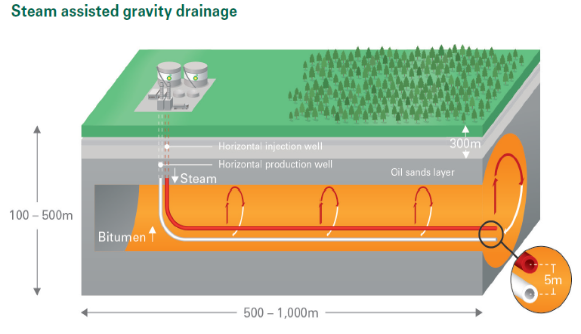 Source: BP Presentation
Bloomberg reports that the New Democratic Party, which recently ended the Progressive Conservatives four decade hold on the major oil producing province Alberta, will push ahead with possibly changing the province's oil royalty system. The royalty system is one of Alberta's ways of generating revenue, with billions of dollars pouring in every year depending on how many barrels of heavy oil are sold. However, at this point Alberta's Premier Rachel Notley has stated that she just plans to "listen" and see if it is now the right time to raise rates by conducting a review on Alberta's current royalty scheme. The plan for that review is expected by the end of this summer. It will take longer for the review to be completed, and longer still for any increase in royalties to kick in. 
There has been some very pessimistic speculation that the NDP would kill the oil sands and energy industry as a whole, but those fears are wildly overblown. Rachel Notley doesn't want serious damage an industry that is already struggling and a major source of economic activity in the area. WTI has fallen down to $60 a barrel since the end of 2014, and WCS [Western Canadian Select] still trades at a fairly steep $10 - $15 per barrel differential to WTI, which means heavy oil producers in the region aren't realizing decent unhedged prices right now. Enough to cover the ongoing cost of production at heavy oil projects, but not enough for various developments to cover the huge upfront cost of building out the massive facilities needed to extract bitumen from oil sands. Many expansions have been cancelled so far. ConocoPhillips (NYSE:COP) and Total (NYSE:TOT) recently initiated first-steam at the Surmont 2 SAGD facility, with first-oil expected by Q3 2015. However, expect this to be the last expansion for a while as there is a good chance that the partnership won't proceed with the possible Surmont 3 expansion anytime soon. Devon Energy's (NYSE:DVN) Pike development with BP (NYSE:BP) remains up in the air as well, with a decision expected sometime this year on whether or not to move forward with it. It will come down to oil prices, but that expansion could also be delayed, especially if there were to be a major increase in royalties. 
One could speculate that considering Rachel Notley is conducting a study on whether or not to raise rates instead of rushing right ahead and doing so in these incredibly turbulent times for the oil industry, the NDP is most likely well aware of how important the energy industry is for the region. Pushing higher taxes [technically not a tax, according to Alberta's government, but it effectively is] now would win ideological points, but runs the high risk of further mass layoffs, delayed expansions, higher rates of unemployment, etc, and based on Rachel Notley's current position, it would be fair to assume the NDP isn't the harbinger of death for the industry as many pessimists have claimed. 
We will have to see how the NDP proceeds, but I think they will keep in mind that the industry is on very weak financial footing right now. Also almost every energy company is free cash flow negative right now, meaning they are spending more on their capex budgets and dividends than they are taking in. That doesn't leave a lot of room to raise royalties without scaring off the industry to seek greener, lower cost pastures. On another note, ff you have anything energy related you want to write about click here and start typing! 
Disclosure: Callum Turcan, the author, does not own any of the companies mentioned above. Always do your own due diligence before investing.