How Energy Companies Are Developing Alberta's Massive Oil Sands Resources
Canada is sitting on top of an enormous amount of bitumen [heavy oil]. Alberta sees roughly 170 billion barrels of heavy crude that will be eventually pumped out in the years ahead, out of the 315 billion barrels of potential recoverable bitumen. Those kinds of reserves rivals the resource bases of OPEC heavyweights Venezuela and Saudi Arabia. At first, the energy industry was "mining" Alberta's oil sands. This is often the cheapest way of extracting bitumen from oil sands, but mining operations can only tap into 20% of Alberta's bitumen reserves, which is why new drilling techniques had to be deployed.
Oil sands refers to a naturally occurring concoction of sand/clay, water, and bitumen that can be found at various depths all around the globe. Canada's Alberta is home to the largest oil sands operations by far, even though there are oil sands deposits in Russia and the United States of America, two major energy producing countries as well. What makes bitumen hard to pull out of the ground is its level of viscosity. At room temperature, bitumen acts like cold molasses.  
Due to its viscosity, bitumen that is hundreds to thousands of feet below the surface can't be easily extracted. This is where SAGD, steam assisted gravity drainage, operations come in. As you can see in the picture below from BP's (NYSE:BP) website, oil producers are now using horizontal steam injection wells to heat up the bitumen so it can travel to a horizontal production well and be extracted. Once extracted from the ground, bitumen needs to be processed before a refinery can begin to refine it into jet fuel, gasoline, and diesel.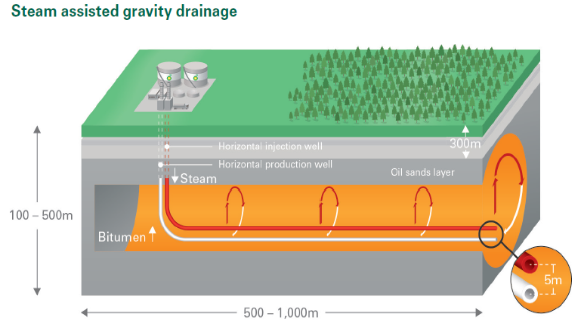 Source: BP Website
Heavy crude that is produced in Alberta trades at Western Canadian Select [WCS] pricing, which trades at a discount to West Texas Intermediate [WTI, American oil pricing benchmark] due to the lack of takeaway capacity out of the region and because it costs more to refine heavy oil. That differential has narrowed substantially since the price of oil collapsed and then rebounded a bit. Now the difference is around $7.50 per barrel versus over $20 not that long ago, a major improvement. In the event oil prices rise, that spread may widen but the upstream industry will still be realizing better prices overall. 
What's your thoughts and opinions on the oil sands industry? Are you more likely to support/oppose oil sands development through the SAGD method versus mining operations? Write you thoughts down in the comment section below and join the conversation. To check out more about the oil & gas industry, click here. 
Disclosure: Callum Turcan, the author, does not own any of the companies mentioned above. Always do your own due diligence before investing.